Kent's News - Year 2001
We want to wish everyone a safe holiday season.

The last couple of months have been pretty busy for me.

I just returned from Las Vegas where I attended the AFL-CIO Convention at the Paris Hotel. The convention was dedicated to "America's Workers - Heroes Every Day."

It was a very moving experience with much of the time spent honoring those union members who were lost on September 11.


October 11, 2001

I have sprinkled a few things throughout the site. As an example I added some text to the John Goldfarb photo on the Gallery page.
On a personal note, no words can express the emotions felt by so many people throughout the world about the events of September 11, 2001. Police Officers, Firefighters and Emergency Medical Service personnel reminded the world of what the word hero means. All I can say is a humble thank you to those men and women who put it all on the line every day.

SCREEN ACTORS GUILD FOUNDATION DONATES $50,000 TO NEW YORK'S RELIEF FUND
September 7, 2001 -- We have updated the Adam-12 section of the ARCHIVES, adding info to the Pilot section and photos in the Adam-12 Gallery. We have also provided a link to the TV-Land Adam-12 Episode Guide and also the TV Show Schedule. On September 8 Adam-12 will be on 4 times a day for a week, according to the Schedule. On the SPEAKS page we have added a link to Actors Moving Forward: this is a site dedicated to the candidacy of a slate headed by Valerie Harper who is running for President in the upcoming Screen Actors Guild election.

I want to thank all you folks who have visited this site in the past 6 weeks. We have had over 66,000 hits in that time and a lot of nice comments about it e-mailed to me. There are a
lot of elements yet to expand upon and I am going to attempt to add some new photos across the entire site soon. As an avid photographer all of my life I probably have 100 thousand pictures that I have taken from productions I have worked on. I'll see if that might be an element that fits into this electronic scrapbook...

After leaving Sydney we flew about 30 hours with stops in Singapore and London to get to Rome. We were there at the the time of year when the place was crawling with people like us. Tourists. It was hot and crowded. We hit most of the historical monuments and the Vatican. The Sistine Chapel was worth the trip. We then went to our favorite place in the world to visit, Paris. The weather was perfect and we have never seen the city cleaner. I am going through the over 1000 pictures I took and will post some soon.
On the subject of the FARSCAPE Convention I have received no information about it. I know that they are having it soon and that some of the cast has been invited to appear. Last year I was not contacted until late. If anything changes I will post it immediately.
There is a web site for WOMAN'S STORY at, www.womansstory.com. It's a nice site. I also noticed that they showed the album cover of RUDY THE FIFTH on the VH-1 show on Ricky. I shot that cover photo and was very proud that Ricky chose it for what some consider to be his best album. I received a nice picture of Cynthia and me at a 1974 Ricky Nelson show at the Roxy in Hollywood. We've added it to the Personal Photos in the Archives section.

Thanks for checking in,
Kent

After returning from doing FARSCAPE in early May 2001, I was part of the Screen Actors Guild negotiating team that worked out an agreement with producers for a new 3 year deal to cover actors working in motion pictures and television. We began on May 15, and that evening I did an interview for VH-1's "Behind the Music" show about my friend Ricky Nelson. It has already aired several times and I thought they did a good job with it. I just wish they had made it longer. It only scratched the surface of Ricky's life and influence on rock and roll.

On July 3rd, the night we completed our negotiations with the AMPTP, I got a call that I would be going back to Australia for another episode of FARSCAPE. So here we are. From here we are off to Rome and Paris.


Greetings from Paris!
(Click for blowup)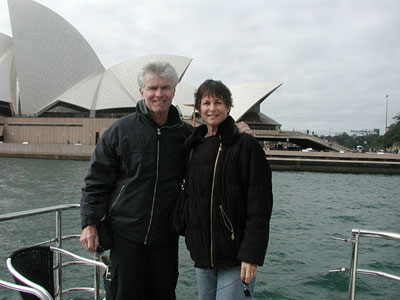 I got back from Australia and Marty and I attended the 81st Annual Training Conference of the California Peace Officers' Association at Coronado, California. The theme of the conference was Cops 'n Kids. Then off to Indy.
The South Bay Medal of Valor Awards luncheon was a wonderful event. They have been doing this for 27 years now and it really was reflected in how well the ceremony went off. I hope to get a transcript of what I said so that I can post it. My brother-in-law is a retired firefighter/paramedic from Gardena and one of his closest friends is the Fire Chief from El Segundo. So this was special privilege for me to be able to participate in this event. The officers who were honored had all put it on the line to protect the public. They are the real heroes in our society.

On April 19, 2001, I will attended the 2001 Medal of Valor Luncheon honoring Police and Fire personnel from nine South Bay cities. The event was held at the Torrance Marriott and was sponsored by the Chamber of Commerce of the nine cities. This event was to pay tribute to the brave men and women who put it on the line every day to protect us.
Other News: This Year | Year 2004 | Year 2003 | Year 2002 | Year 2001 | Year 2000


What's New | Biography | Gallery | Archives | Adam-12 | Credits | Speaks | Charities | Home
KentMcCord.com - The Official Website of Kent McCord.
Copyright 2001-2007, Buck Productions, Inc. All rights reserved.