---
| | | |
| --- | --- | --- |
| Pamm Fair, S.A.G. (In black) Sheila Kuehl California State Senator (in red) Anna Strasberg S.A.G. Member (in white) | On July 10th I flew to Sacramento to testify before the state Assembly Judiciary Committee on the issue of the protection of a persons name, voice, signature, photograph, and likeness. Here is my testimony. Pictured with me is State Senator Sheila Kuehl, who as a youngster was known as Sheila James when she starred in "The Many Loves of Dobie Gillis" playing Zelda. She also starred in "The Stu Erwin Show" that Marty had worked on in the early 50's. Anna Strasberg is the widow of famed acting teacher Lee Strasberg. Pamm Fair is the Deputy National Executive Director of Policy & Planning of the Screen Actors Guild. | Kent's testimony copy |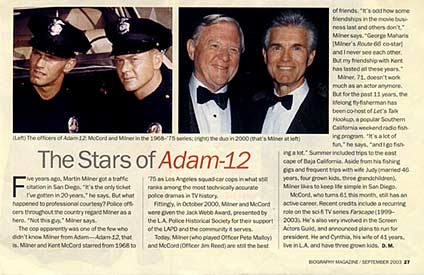 Kent and Martin Milner in a recent issue of Biography Magazine (click for full size)
These photos are from the Oct. 4, 1994, Jack Webb Awards dinner to benefit the Police Historical Society.

(click to enlarge)






This is Senator John Edwards (D-NC) who is running for President of the U.S.

Left to right: Elliott Gould, Bob Pisano S.A.G. NED/CEO, Senator Edwards, Melissa Gilbert and me.

(click for full-size image)

Screen Actors Guild National Board Of Directors 2002-2003
(Hollywood Division)


Back Row (L-R): Peter Onorati, Amy Aquino, Julie Sanford, Yale Summers, DeWayne Williams, Bonnie Bartlett, Mike Farrell, William Schallert, Michael Monks, Mitchell Ryan, Chris M. Allport, Paul Napier, Barbara Bosson, David Huddleston, Rebeccah Bush, Kevin Kilner, Michael Harrah, Bruce Boxleitner, Richard Crenna, Vivicca A. Whitsett.
Middle Row (L-R): Jerry Sroka, Robert David Hall, Keri Tombazian, Seymour Cassel, Morgan Fairchild, Esai Morales, Suzanne Cryer, Paul Petersen, Jack Coleman, James Cromwell.
Front Row (L-R): Karen Austin, Tom Bosley, Trista Delamere, Shelley Fabares, Kent McCord, Melissa Gilbert, Elliott Gould, Sumi Haru, Frances Fisher, Patrick Kerr.
Not Pictured (in alphabetical order): William Daniels, Dana Daurey, Richard Dreyfuss, Valerie Harper, Mariette Hartley, Richard Herd, Jane Kaczmarek, Diane Ladd, Dakin Matthews, Robert Duncan McNeill, Alan Rosenberg, Fred Savage, Marcia Strassman, Renee Taylor, Noah Wyle.
I did a webcast on the subject of The Next Generation Internet & New Technologies featuring California Governor Gray Davis, me and others
I along with other Screen Actors Guild members recently testified before the California State Senate Select Committee on the Regulation of Talent Agents.
I am committed to using my experience and understanding of the plight of actors to help ensure they will always be treated fairly and with respect. To that end I am proud to stand with Valerie Harper as she runs for President of Screen Actors Guild.
Since I first joined the Screen Extras Guild in 1961 as a result of my first job on The Adventures of Ozzie and Harriet, I have always been an active member and supporter of the motion picture and television unions. Soon after I joined the Screen Extras Guild, I also joined the Screen Actors Guild (S.A.G.), and later the American Federation of Television and Radio Artists (A.F.T.R.A.). These unions were formed to protect performers in motion pictures and television by working and negotiating with producers to improve actor's wages and working conditions.
| | | |
| --- | --- | --- |
| By the time I was starring on Adam-12, I was well aware of the abuse and hardship many actors faced. If I was still experiencing such unfairness as the star of network television series, I could only imagine what guest actors and day players were going through. It was then that I committed myself to becoming more involved in the Screen Actors Guild. I attended a National membership meeting at the Palladium on Sunset Boulevard in Hollywood, and spoke on behalf of other actors, specifically addressing the contractual abuses they continually encountered. I eventually joined a group of actors called the Concerned Actors Committee (C.A.C.). | Kent McCord's letter to California Senator Burton and Assemblyman Battin regarding legislature to amend the right of publicity. | California Assemblyman James Battin's response to Kent's letter |
In 1971, the C.A.C. challenged the existing S.A.G. leadership. The next year I began what would be eleven years of union service, becoming only the second independent candidate to be elected to S.A.G. board of directors in its then thirty-seven year history. I went on to serve four years as the Guild's first Vice President. Since then, I have continued to serve on various committees, as well as a temporary replacement on the board.
Recently, I was in Las Vegas, speaking before the National Council of Senior Citizens on behalf of Screen Actors Guild members who have been under-represented in both motion pictures and television.

Letter from California Governor Jerry Brown

Over the years, I have represented the S.A.G. membership in Sacramento, Washington, D.C., and in Paris, France as a delegate to the Federation Internationale des Acteurs (F.I.A.). I have also served as a delegate to the A.F.T.R.A. conventions on numerous occasions.

I am committed to using my experience and understanding of the plight of actors to help ensure they will always be treated respectfully and fairly. It is to achieving this end that have dedicated myself.
What's New | Biography | Gallery | Archives | Adam-12 | Credits | Speaks | Charities | Home
KentMcCord.com - The Official Website of Kent McCord.
Copyright 2001-2007, Buck Productions, Inc. All rights reserved.